Volume 57, Number 03, 2021
IDIOM NO.57
Starting out
The focus of this edition of Idiom, 'Starting out', is on early career teachers of secondary English and, in particular, the practical ways in which we can better support aspiring and beginning English teachers in our schools. The experiences of teachers in these important early years of their teaching careers are clearly crucial in supporting the development of the skills and strategies necessary to give them the confidence and inspiration to keep teaching and progressing as English educators.
Read this issue
Volume 57, number 03, 2021

Starting out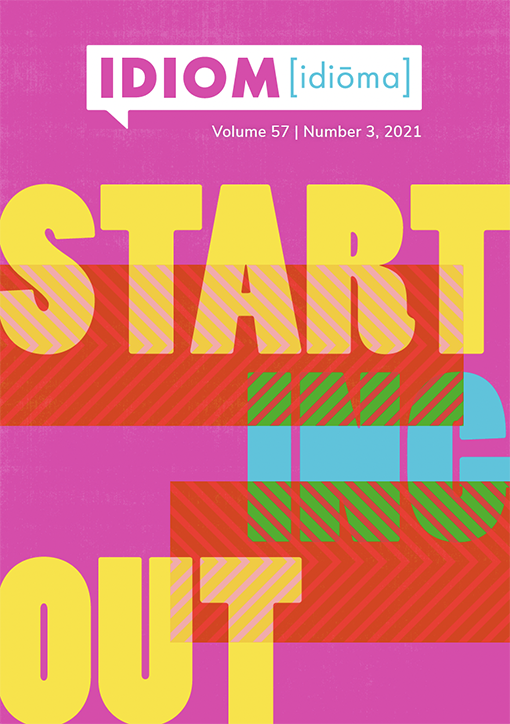 Read this issue
What is Idiom?
Idiom is the journal of the Victorian Association for the Teaching of English and is published online three times a year. Idiom provides an important space for members of the VATE community to share insights, expertise, experiences and practical advice for the benefit of our English teaching colleagues and to help foster professional dialogue and development. Contributions and editorial correspondence should be sent to the Managing Editor, Josephine Smith: idiom@vate.org.au.
Contribute to Idiom in 2022
We invite you to read more about the next edition of Idiom and encourage you to contribute.
Idiom Volume 58 No 1: 'Stepping Up' – Being an English leader
The focus of this edition is on leadership in English education. Following on from our last edition 'Starting Out', focusing on early-career English teachers, we shift our focus in this edition to exploring the experience of stepping up and taking on a leadership role in English education. This could range from managing the team of English teachers in your whole school community, as well as leading a year level or subject specific English teaching team. Stepping into the role of English leader can be both exciting and daunting – knowing that the work and the decisions of the English leader will have an impact on students from Year 7 through to VCE. Read the full theme here. All contributions now due Thursday 12 May 2022. Please get in touch with your expression of interest in contributing, any queries about writing for Idiom, and your submissions. Email Josephine: idiom@vate.org.au.