Volume 55, Number 03, 2019
IDIOM NO.55
Conversations about the original VCE English Study Design
As VCE English is being reviewed yet again, this edition of Idiom is a reminder of a time when a review of English led to a major curriculum reform - the development of the original VCE English Study Design. In this Idiom, we hear from teachers, educators and bureaucrats from that era of curriculum reform about the whys and wherefores of the development of the Design.
Read this issue
Volume 55, number 03, 2019

Conversations about the original VCE English Study Design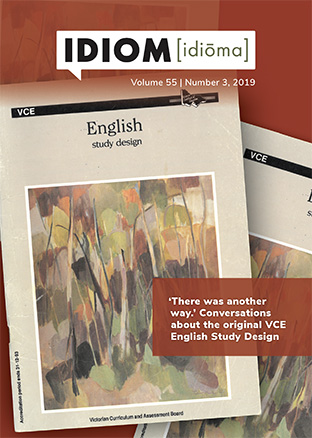 Read this issue
What is Idiom?
Idiom is the journal of the Victorian Association for the Teaching of English and is published online three times a year. Each year VATE calls for member submissions relating to a range of issues pertinent to English educators. The contributions help to foster professional dialogue, renewal and growth. Contributions and editorial correspondence should be sent to the Managing Editor, Josephine Smith at idiom@vate.org.au.
Read the latest book reviews prepared by VATE members – download here. A selection of these are also available in the latest edition of Idiom, Vol 55 No 2, Focus on Text.