Volume 57, Number 02, 2021
IDIOM NO.57
Diverse Voices in English
This edition of Idiom is a jumping-off point for discussions around creating a more inclusive English classroom, recognising that we make sense of the world through the stories we tell, the stories we read, and the stories we hear. We hope that this issue of Idiom opens up useful conversations in our schools about diversity, representation and text selection.
Read this issue
Volume 57, number 02, 2021

Diverse Voices in English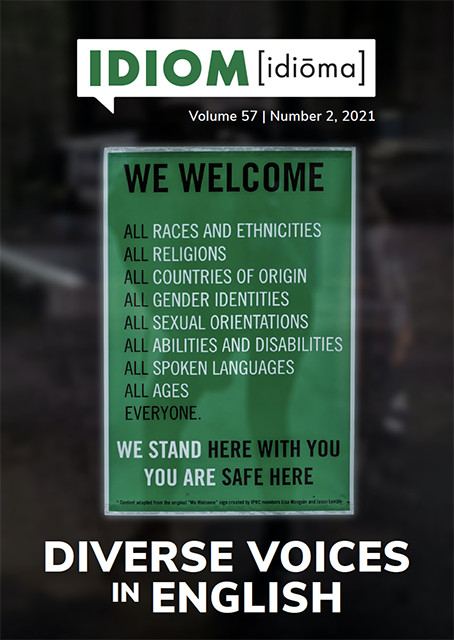 Read this issue
What is Idiom?
Idiom is the journal of the Victorian Association for the Teaching of English and is published online three times a year. Each year VATE calls for member submissions relating to a range of issues pertinent to English educators. The contributions help to foster professional dialogue, renewal and growth. Contributions and editorial correspondence should be sent to the Managing Editor, Josephine Smith at idiom@vate.org.au.
Contribute to Idiom in 2021
We invite you to read more about the next edition of Idiom and encourage you to contribute.
Idiom Volume 57 No 3 - 'Starting out': Early career English teachers
The focus of this edition of Idiom is on early career teachers of secondary English and, in particular, the practical ways in which we can better support aspiring and beginning English teachers in our schools. We also invite beginning English teachers to share your stories and give us an honest insight into your experiences so that we can learn what works, what doesn't, and the ways in which we can better support you in schools. Read the full theme here. All contributions due Thursday 30 September 2021. Please get in touch with your expression of interest in contributing, any queries about writing for Idiom, and your submissions. Email Josephine: idiom@vate.org.au.