Volume 56, Number 02, 2020
IDIOM NO.56
Voices from the Middle
This edition gives voice to English educators who develop and deliver English curriculum at Years 7-10, highlighting ideas, issues and innovation at the middle years. It also captures a unique period in history – a global pandemic! – providing insight into the experiences of both teachers and students in rapidly shifting to remote teaching and learning and the ensuing challenges and rewards.  
Read this issue
Volume 56, number 02, 2020

Voices from the Middle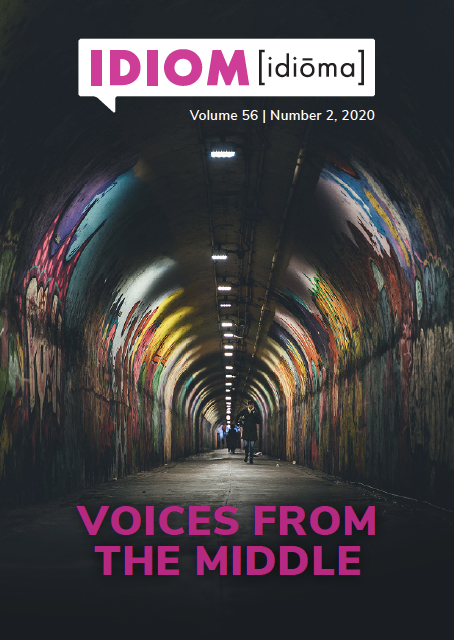 Read this issue
What is Idiom?
Idiom is the journal of the Victorian Association for the Teaching of English and is published online three times a year. Each year VATE calls for member submissions relating to a range of issues pertinent to English educators. The contributions help to foster professional dialogue, renewal and growth. Contributions and editorial correspondence should be sent to the Managing Editor, Josephine Smith at idiom@vate.org.au.
Contribute to Idiom
Idiom Vol 56, No 3 – Focus on Writing
The VATE Curriculum Committee is exploring the issue of writing in the next edition of Idiom (Vol 56, No 3) and is inviting your contribution. Read more here. We would like to hear from VATE members about your strategies, programs and contexts for encouraging and nurturing writing.

Please email your contributions to idiom@vate.org.au by Monday 19 October 2020. Please get in touch if you wish to discuss the focus and length of your possible contribution: idiom@vate.org.au. We look forward to hearing from you!