Volume 56, Number 03, 2020
IDIOM NO.56
Nurturing a Writing Culture
This edition focuses on the issue of writing in our secondary English classrooms. It reflects on the current situation and ways of approaching the teaching of writing through various programs and strategies. It also takes a wider view, and looking ahead, considers the possibilities for evolving and nurturing a richer writing culture in our secondary schools.
Read this issue
Volume 56, number 03, 2020

Nurturing a Writing Culture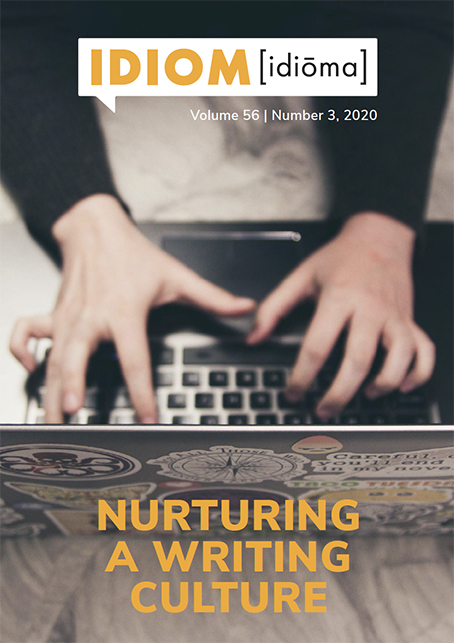 Read this issue
What is Idiom?
Idiom is the journal of the Victorian Association for the Teaching of English and is published online three times a year. Each year VATE calls for member submissions relating to a range of issues pertinent to English educators. The contributions help to foster professional dialogue, renewal and growth. Contributions and editorial correspondence should be sent to the Managing Editor, Josephine Smith at idiom@vate.org.au.
Contribute to Idiom in 2021
Idiom Volume 57
The VATE Publications and Comunications Committee, convened by Life member Jan May, will be meeting online soon (Thursday, 11 March 2021 - please email if you are interested in joining us). We'll be discussing the focus of Idiom Nos 2 and 3 and would welcome your participation, ideas and suggestions. Please look out for the next Idiom email to members with details about these editions of Idiom and a call for contributions - we encourage you to consider writing and submitting an article and adding your voice to the professional conversations which support and enrich the English teaching community.